Water Damage Chicago
911 Restoration Chicago
Ronne Manztur, owner of 911 Restoration Chicago, steps over a soaked carpet. The weight of his body tightens the millions of fibers, interlocking them into each other, forcing the water out, and it pools around the soles of his shoes like bare feet on a shore.
Although the fire happened in the kitchen, the extent of the damage is all over. He is sweeping the house with his clipboard tucked into his chest. Checking off boxes on a 8.5 by 11 inch sheet of paper, while providing the homeowners a free damage estimate.
"After a home accident," Ronne says, "homeowners deserve every bit of help they can get. And that includes the truth."
Ronne and his water damage Chicago team believe in full transparency, which is why he is the first one you should call when it comes to disaster restoration services.
In order to get every homeowner back on to their fresh start, then they need to know the full extent of the damage, as to ensure no future problems arise. Moreover, residents of Chicago need a team that will respond in a prompt manner, as to prevent problems from compounding.
This is why 911 Restoration Chicago is one of the most available around.
You get help 24/7/365 because we are always available.
You see a licensed, bonded, and insured professional within 45-minute of your call.
For extreme situations we guarantee you same-day service.
If your home or business is suffering from the effects of a disaster, fire outbreak, sewage issue, mold contamination, or a water damage event, then contact our experts with 911 Restoration Chicago for help today!
Water Damage Restoration
Almost all disasters include water damage restoration work. For one reason, there are a lot of running water lines in your home. You may be familiar with sinks, showers, and hoses, but there is almost one in between every wall, too.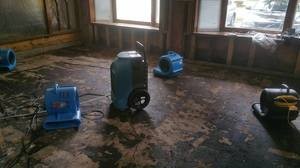 So, if strong winds were to blow in your home, then a damaged wall can result in a leak. Or, in a cold front you may experience a pipe burst from almost any of these freezing over.
Therfore, you need a team that knows where to look for damages. In our years of experience, the water damage Chicago team has seen it all.
Our restoration services combine a wealth of knowledge alongside sophisticated equipment to get you on to the path of the fresh start. For example, a majority of water damage in your home is hidden from plain sight.
Therefore, to find it all we use infrared cameras to peer into the wall. This allows us to track moisture that may give rise to something like a mold infestation.
If your home or business is already amid a flooding situation of some sort, then don't wait for it to grow mold too. Contact the water damage restoration Chicago team with 911 Restoration Chicago for all the help you need today!
Disaster Restoration
What makes our disaster restoration Chicago team the one-stop-shop you are looking for? Well, we are IICRC certified.
Thus we are more than capable of working with the abundance of issues that may arise after an accident.
Furthermore, we have the training and the know-how to operate restoration tools, that combined with our knowledge, will get your home looking beautiful once more.
From renovation to repairs, you never have to call two teams because we are full service providers.
If your home or business is suffering from the effects of a localized disaster event and you want the best in the business to handle the repair work for you, then contact our disaster restoration Chicago team with 911 Restoration Chicago today!
Fire Damage Repair
We believe that restoration should be easy for your peace of mind and your finances. Therefore, we work for you in talking to your insurance company to get you every penny that you are entitled tool.
And our expert technicians are familiar with a lot of companies and their policies.
Thus, we know that almost every type of homeowner's insurance covers fire damage. Therefore, the fire damage Chicago restoration team will provide you an affordable solution.
Moreover, as there is excessive moisture in the event of a blaze, due to the amount of water combated with jet streams, then count on our water damage team to get you back to normal.
If you have recently been through a fire and smoke damage event, then contact our fire and smoke damage Chicago team with 911 Restoration Chicago today!
Sewage Backup and Cleanup
Sewage backup is vile stuff as it is considered a category 3 water damage incident.
Therefore, we recommend that  you call us, as our water damage Chicago team will arrive to remove waste and sanitize spaces.
The hands on training we receive allows us to safely drain waste away from the home, so that the safety of your home, and then healthy of your family remains secure.
If you experience backup, do not touch it. Vacate the premises and give us a call.
Upon our arrival we will perform water extraction and then treat the area with sanitizing spray. Count on our fresh fix to get you through the day.
If your home or business is going through a category three water exposure situation at present, then contact our sewage backup and cleanup Chicago professionals with 911 Restoration Chicago today!
Mold Removal
As described earlier, water damage is good at hiding. So, by the time you realize you need restoration services, it will include more than water repair. One effect of stagnating moisture is that it will give rise to a mold colony.
It starts off with a single spore become active due to humidity. Then it sets roots into porous and organic material, which the bulk of your home is made out of. Following that, it begins to eat the material it is on.
After the colony has become big enough, it will then increase the volumetric presents of spores in the air. That in turn may exacerbate allergies, and then give rise to even more mold.
To combat this you should call us when you experience water damage, as we will ensure that mold starts. Even if you do uncover mold, our decontamination job will make sure no signs remain.
If your home or storefront is starting to smell musty after a recent water damage spill, then you likely have a mold contamination issue, and you should contact our mold removal Chicago team with 911 Restoration Chicago today!