Water Damage and Mold Removal Des Plaines
 Sewage backups, leaking pipes, storms, and pipe bursts in Des Plaines can all lead to residential and commercial property damage. You can immediately address water damage by contacting 911 Restoration of Chicago. Our water damage restoration techs can begin flood cleanup with same-day services. Crews can:
Reach Your Property Within 45 Minutes of an Emergency Call, 24/7/365

Offer You a Water Damage and Mold Inspection

Take Care of Water Extraction, Flood Cleanup, and Dehumidification

Begin Mold Remediation and Mold Decontamination
You can completely restore your property by contacting us for water damage restoration and mold removal in Des Plaines. Call us now to get back your peace of mind after a burst pipe, flood, or sewage spill.
Let the Pros Handle Water Damage Restoration in Des Plaines
Water damage emergencies caused by leaking pipes, floods, snowstorms, or pipe bursts can leave you unsure where to turn for help. The flood cleanup pros at 911 Restoration of Chicago can spring into action right away. We have the equipment to:
Begin Water Extraction from Flooded Areas

Repair Leaking Ceilings and Carpet Water Damage

Take Care of Crawl Space Cleanup
Crews are also fully trained to handle mold remediation in Des Plaines. Mold removal techs can perform a mold inspection to check your property for signs of a fungal infestation. We can immediately begin mold decontamination if we spot mold growth
Return your property to better-than-new condition by contacting us for water damage restoration and mold remediation in Des Plaines. Take care of flood cleanup in Des Plaines with the pros at 911 Restoration of Chicago.
Restore Your Property with Mold Remediation in Des Plaines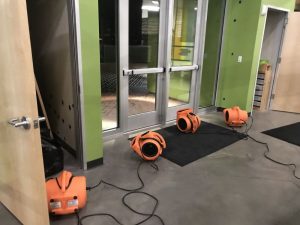 Flooding, pipe bursts, and frozen pipes can introduce excess moisture into your property. This moisture can provide mold with a perfect environment to grow. For this reason, your flood cleanup techs may perform a mold inspection in Des Plaines. Your mold inspection can identify signs of fungal growth so crews can begin mold removal in Des Plaines.
Mold remediation and mold decontamination in Des Plaines can wipe out a mold infestation quickly and effectively. You can count on mold decontamination to take care of odors associated with fungal growth. Wipe away all signs of a mold infestation with mold remediation in Des Plaines.
The licensed, bonded, and insured mold removal pros at 911 Restoration of Des Plaines can help you fully recover from any water damage emergencies. Secure a Fresh Start after a pipe burst or flood by contacting us right now to begin water damage restoration in Des Plaines.
Servicing the cities of Arlington Heights, Glencoe, Lincolnshire, River Forest, Aurora, Glen Ellyn, Lincolnwood, Lake Forest, Skokie, Bellwood, Glenview, Long Grove, Vernon Hills, Berkeley, Golf, Medinah, Wayne, Elmwood Park, Brookfield, Highland Park, Morton Grove, Western Springs, Buffalo Grove, Highwood, Mount Prospect, Westmont, Chicago, Hoffman Estates, Mundelein, Wilmette, Clarendon Hills, Inverness, Naperville, Winnetka, Darien, Itasca, Niles, Wood Dale, Deerfield, Kenilworth, Northbrook, Woodridge, Des Plaines, LaGrange Park, Oak Park, Evanston, Lake Zurich, Park Ridge… and surrounding areas.