Water Damage Restoration in Mount Prospect
Water damage is a significant contributor to property loss and needs to be addressed quickly to avoid additional devastation, such as mold, rot, and property damage.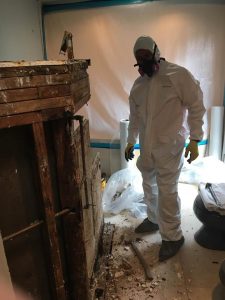 Before permanent destruction sets in, make sure to call 911 Restoration of Chicago, so technicians can be dispatched to your home or business within 45 minutes of receiving your call.
Even a small amount of water can get into porous materials, like wood and sheetrock, and begin to deteriorate these structures by rotting and warping, which is why our 24/7/365 service is so outstanding.
When you call the water damage company for restoration assistance, you'll immediately be in touch with a crew member that can guide you through the process, from getting you your initial inspection to providing insurance assistance.
With so many years in the water damage restoration industry and earning our IICRC certification, customers can trust that they're always in good hands when they need flood cleanup in Mount Prospect.
If you experience something as minor as a plumbing leak or as significant as a house flood, call 911 Restoration of Chicago and technicians will respond in record time to give you the peace of mind you deserve.
Prevent Major Water Damage After A Ceiling Leak Or Home Flood
A roof or ceiling leak might seem like a simple fix for property owners, but sometimes when amateurs try to perform a professional job, they exacerbate the problem.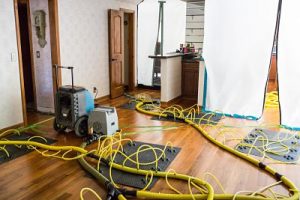 Ceiling leak issues that aren't addressed correctly can cause further destruction to your sheetrock and even end up creating mold, which can end up costing thousands in repairs.
To stay on top of the damage caused by a leak, the first thing you should do is place a container large enough to catch the dripping water underneath the leak, then contact 911 Restoration of Chicago immediately.
A service operator will walk you through steps to take to prevent further damage while technicians rush to your property to implement water damage restoration and flood cleanup services.
If you find yourself dealing with a house flood, then we will respond just as quickly to administer flood cleanup services. You can rely on us to remove a carpet due to water damage, extract water in crawlspaces, and implement drying services.
Once the job is complete and your property looks even better than before, staff members will go over preventive maintenance techniques with you that will reduce future leak and flood problems.
So, when you need water damage restoration services in Mount Prospect, call 911 Restoration of Chicago today to receive help from a team that cares and understands your needs.
High-Quality, Water Damage Restoration in Mount Prospect
Mount Prospect is a city in Cook County that sits at a high point that is 665 feet above sea level. Even though most of the properties in the area are at high elevation, that doesn't mean that invasive forces of water from storms and indoor plumbing problems can't still wreak havoc on your home.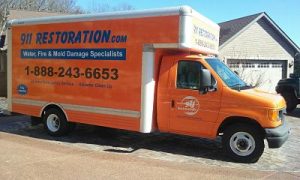 911 Restoration of Chicago is the industry leader in all aspects of water damage restoration and mold remediation, so regardless of the severity of water invasion or class of damage, customers can feel confident working with our technicians.
The repair techs are dedicated to customer service and are committed to proving that commitment to the Mount Prospect community through excellent leak and flood cleanup services.
Mount Prospect lives by the slogan "where friendliness is a way of life," and at 911 Restoration of Chicago, the highly trained technicians strive to be just as welcoming to their customers.
When you need help, you can turn to 911 Restoration of Chicago virtually any time, day or night, and expect immediate water restoration. So, call us today, and our technicians will give you the Fresh Start you deserve!
Servicing the cities of Arlington Heights, Aurora, Bellwood, Berkeley, Brookfield, Buffalo Grove, Chicago, Clarendon Hills, Darien, Deerfield, Des Plains, Evanston, Glen Ellyn, Glencoe, Glenview, Golf, Highland Park, Highwood, Hoffman Estates, Inverness, Itasca, Kenilworth, LaGrange Park, Lake Zurich, Lincolnshire, Lincolnwood, Long Grove, Medinah, Morton Grove, Mount Prospect, Mundelein, Naperville, Niles, Northbrook, Oak Park, Park Ridge, River Forest, Skokie, Vernon Hills, Wayne, Western Springs, Westmont, Wilmette, Winnetka, Wood Dale, Woodridge, and the surrounding areas.