Water Damage Restoration in Oak Park
Water damage only gets worse as time goes on, which is why it is crucial to be able to immediately contact a water damage restoration company you can trust the moment you need emergency water removal services.
When you discover signs of a leak or flood in your property, 911 Restoration of Chicago will respond within 45 minutes to provide water damage restoration in Oak Park, no matter what time of the day or night your emergency may occur.
The office is available 24/7/365 where office agents are standing by around the clock to schedule an appointment with highly trained technicians who will remedy your pipe burst or rain leak emergency.
This prompt service is essential when dealing with water disasters such as flooded basements, pipe burst, and ceiling leaks because when water is allowed to stagnate, it will increase in toxicity, cause rot, and allow mold to grow.
By hiring the repair techs immediately for same-day, leak and flood cleanup services, you will significantly reduce your losses and prevent these consequent issues. To make it easy for you to receive our water damage restoration services, we give property owners free visual inspections.
The goal is to make sure our customers have access to high-quality, affordable water extraction and drying services. So, call 911 Restoration of Chicago today to receive help from a team that cares and understand your needs today!
Around The Clock Flooded Basement Cleanup Services
Property owners in Chicago are susceptible to becoming impacted by a flooded basement emergency, whether it be caused by a rainstorm, pipe burst, or a malfunction of a water-based appliance.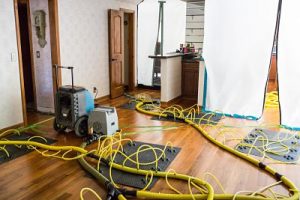 As soon as you discover your flooded basement in Oak Park, you should call 911 Restoration of Chicago because personnel will help you control the situation before repair techs arrive on the scene.
They will walk you through the process of shutting off the main water line to the property, immediately stopping the influx of water into the home or business.
The repair technicians guarantee to respond within their 45-minute timeline when such a disaster occurs and will immediately begin emergency water extractions to prevent water damage on sheetrock, mold growth, damaged belongings.
If we need to remove a carpet due to water damage, technicians will salvage the textile when possible. Carpet drying is a task best left to professionals because even a small amount of moisture left in the fibers can create mold and mildew. The professionals will use advanced air movers and dehumidifiers to dry out your basement after a flood, which will prevent mold spores from taking root and stop bacteria from degrading the area.
Call 911 Restoration of Chicago when you need flood damage cleanup and repair techs will give you the peace of mind you deserve by implementing immediate water restoration procedures.
Free Insurance Consultations For Your Water Damage Restoration
If you have never had to file an insurance claim for water damage restoration, then you may need assistance figuring out exactly what coverage your insurance policy provides.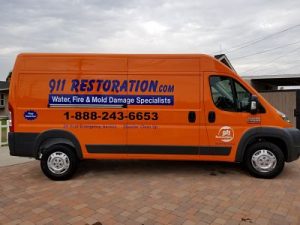 To help make this process go smoothly, staff members will provide customers with a free insurance consultation, during which they will walk you through the entire submission process.
Most homeowner's insurance policies include coverage for water repairs, as long as damage was not caused by an overflowing body of water or property owner negligence.
The latter is something that every property owner should take seriously, and by maintaining your property all year long, you can easily avoid this accusation.
Preventative maintenance includes insulating your pipes against winter temperatures, cleaning your rain gutters, repairing damaged roof shingles, and addressing any leaks and clogs in your plumbing system as soon as they appear. The repair techs can assist you throughout the year maintaining your property by immediately repairing leak and flood damage before it turns into a more severe problem, such as a mold infestation.
911 Restoration of Chicago knows what it takes to recover your property as quickly and efficiently as possible, while still offering top-of-the-line services and competitive water restoration rates.
The repair technicians are entirely dedicated to providing high-quality, leak and flood cleanup services to the community of Oak Park. So, call 911 Restoration of Chicago today and let us turn your disaster into a Fresh Start.
Servicing the cities of Arlington Heights, Aurora, Bellwood, Berkeley, Brookfield, Buffalo Grove, Chicago, Clarendon Hills, Darien, Deerfield, Des Plains, Evanston, Glen Ellyn, Glencoe, Glenview, Golf, Highland Park, Highwood, Hoffman Estates, Inverness, Itasca, Kenilworth, LaGrange Park, Lake Zurich, Lincolnshire, Lincolnwood, Long Grove, Medinah, Morton Grove, Mount Prospect, Mundelein, Naperville, Niles, Northbrook, Oak Park, Park Ridge, River Forest, Skokie, Vernon Hills, Wayne, Western Springs, Westmont, Wilmette, Winnetka, Wood Dale, Woodridge, and the surrounding areas.