Water Damage Restoration in Berkeley
Living with water damage not only causes you stress, but it creates stress on your property through water stains, structural damage, rot, warping, and mold.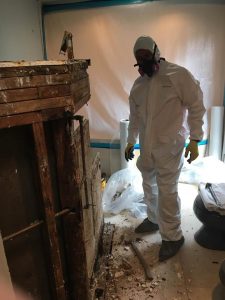 The only way to curve these issues is by reaching out to 911 Restoration of Chicago for water damage restoration services the moment you discover signs of a leak or a flood in your home or business.
The office is open 24/7/365 so agents can assist you around the clock. When they are notified that a customer needs emergency water removal, they guarantee to arrive within 45 minutes of receiving your call.
There are times when it is apparent that you need flood cleanup services, such as when you experience a home flood or a pipe burst, but there are other times when it is less apparent that you need help.
It's crucial to remember that even small situations such as a leak under your sink may warrant professional water damage restoration, especially if it has been dripping for a while unbeknownst to you. This constant moisture can create mold, which is an issue that the repair techs are experts in mitigating.
If you are unsure whether or not you need water restoration services, you can still reach out, and technicians will provide property owners with a free visual inspection to determine the extent of the damage.
Call 911 Restoration of Chicago as soon as you realize you need leak or flood cleanup services, and the highly trained technicians will provide you with the peace of mind you need to recover fully from any water disaster.
Immediate Water Cleanup In Basements And Crawl Spaces
If you have a basement or crawl space in your property, then the chances are that the area will become flooded at one point or another is relatively high.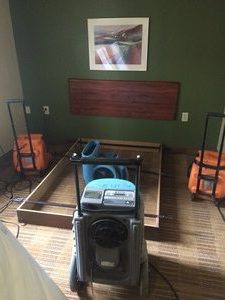 If rainwater leaks into your house or a pipe bursts in the wall, then you may discover water in the crawl space or basement, requiring the need for flood cleanup in Berkeley.
When customers need basement floodwater damage removal, they can depend on the technicians to act fast and begin pumping the bulk of the water out of the area as soon as they arrive on the scene.
By quickly implementing basement water removal and setting up fans to dry out water damage, customers will drastically reduce their chances of experiencing a mold infestation.
The high-powered air movers and dehumidifiers will extract any lingering moisture that the sump pumps and wet-vacs do not remove to completely dry out the basement after a flood.
Call 911 Restoration of Chicago to receive flood cleanup services any time, day or night, and the repair techs will show you how to turn a home flood into a Fresh Start!
Water Damage Repair Services From Experts You Can Trust
Receiving water damage restoration in Berkeley is as easy as making one phone call to 911 Restoration of Chicago. Once you make that call, you will be on the line with a staff member who cares and understands your needs.
The agents at 911 Restoration are there to make this whole ordeal as easy as they can for you, and that is apparent in the customer service that they provide to each and every caller.
Not only will they set you up with a free visual inspection, but they will get professionals to your property in under an hour, no matter what time you call. Repair workers are continually standing by to spring into action and help you.
We want you to feel as comfortable as possible with every step of this process, including the financial logistics. If you are curious about water restoration rates, then technicians can draw you up a free estimate during their inspection.
911 Restoration of Chicago also takes insurance. If you have never used your homeowner's insurance to cover water damage restoration, then a staff member will go over your policy with you and help submit your insurance claim.
When times are tough, it is crucial to be able to trust a water damage company that cares. So, call 911 Restoration of Chicago today and let their technicians assist you through this disaster every step of the way.
Servicing the cities of Arlington Heights, Aurora, Bellwood, Berkeley, Brookfield, Buffalo Grove, Chicago, Clarendon Hills, Darien, Deerfield, Des Plains, Evanston, Glen Ellyn, Glencoe, Glenview, Golf, Highland Park, Highwood, Hoffman Estates, Inverness, Itasca, Kenilworth, LaGrange Park, Lake Zurich, Lincolnshire, Lincolnwood, Long Grove, Medinah, Morton Grove, Mount Prospect, Mundelein, Naperville, Niles, Northbrook, Oak Park, Park Ridge, River Forest, Skokie, Vernon Hills, Wayne, Western Springs, Westmont, Wilmette, Winnetka, Wood Dale, Woodridge, and the surrounding areas.