Sewage Backup Cleanup Arlington Heights
Sewage backup cleanup happens due to faulty plumbing, massive rain storms, and a lack of preventative maintenance. Our sewage backup cleanup Arlington Heights crew is available 24/7 so that 911 Restoration Chicago can help you as soon as a pipe burst or toilet overflow occurs. We are licensed, insured, and bonded in all disaster restoration services so that we can quickly handle water cleanup. We understand the need for speed water removal and have over 35 years of experience in:
Water Damage Restoration
Sewage Backup Cleanup
Disaster Restoration
Mold Remediation
Arlington Heights is especially susceptible to sewage backup because the city's infrastructure and water line was laid quickly during the population boom. After World War II, the expansion outward from Chicago enveloped Arlington Heights. As the plumbing that was laid to accommodate the new residents grows older, the greater the chance of leaks. When a washer burst or ruptured hose occurs on your property and you need our sewage backup cleanup services, call our sewage backup cleanup Arlington Heights team.
Who do I Call for Sewage Backup?
If you have sewage backup, call our sewage backup cleanup Arlington Hills specialists for same day service. You should turn off your water line and move away from the contaminated area. Returning water could be black water, which contains deadly bacteria, or gray water, which causes rashes and indigestion upon contact. Either form of disaster carries health risks, so leave the water damage restoration job to 911 Restoration Arlington Heights.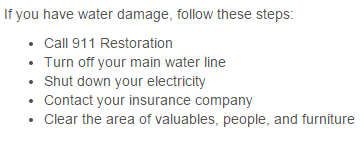 We are working with all insurance companies to make sure you get the affordable price you need on fast, quality drying and clean up services. We will even file your insurance claim for you. According to the Insurance Information Institute, water damage is one of the most frequent reasons for insurance loss, so we also inform you of ways to protect your home against floods. You can clean your gutters, install a sewage back flow valve, insulate your plumbing, and prepare your sump pumps to mitigate the chances of heavy damage.
We always put the customer first and we value professionalism. Our sewage backup cleanup Arlington Heights technicians are available 24/7 to help you with even the worst toilet overflow disasters. Call us when you are in need of a fresh start in the city of Arlington Heights and we will respond within 45 minutes.