Disaster Restoration Chicago
The Windy City experiences everything ranging from harsh winter storms to freezing and windy weather conditions that can pose a threat to residential and commercial properties. 
911 Restoration of Chicago is a locally owned and operated business that provides professional emergency restoration services 24 hours a day, 365 days a year. We guarantee an arrival time of 45 minutes, because we know how important it is to respond in a timely manner for various water and fire restoration needs. Protect your property from damage now. Call us at 773-231-7275 and allow us to offer you a free visual inspection.

In addition to providing professional emergency Chicago disaster restoration services, we care about fixing ceiling leaks, utilizing mold remediation techniques, and addressing the root cause of a flooded basement in Chicago or a frozen or burst pipe.
Our team is IICRC certified in full-service emergency disaster restoration services:
Water damage restoration

Water damage inspection

Fire restoration

Sewage cleanup

Property sanitization and disinfection

Mold remediation, mold removal 
Heavy storms commonly affect Chicago properties. These disastrous water conditions can cause immense sewage backup and flooding that require prompt and speedy attention from a skilled team of professionals in water and fire restoration.
Often, water can end up seeping through basements and subfloors, creating a flooding problem. The water can seep through carpets, tiles, and other areas within the home or a commercial building and pose health hazards and damage. We can provide mold inspection, mold removal in Chicago, and other techniques to sanitize and extract water from hard to reach surfaces. In this case, emergency water removal services need to be conducted immediately. 
A flooded basement at a Chicago property or other common natural disasters can cause distress. Working with a trusted water extraction company with versatile experience in mold remediation, smoke removal, flood cleanup, and mold decontamination can help put your worries at ease. 
We strive to provide free visual inspections for property owners as well as free insurance consultations. As a water clean up service provider, you'll know the upfront cost. Call us at 773-231-7275 and see how we can help.

Dealing with extensive carpet water damage, a flooded basement, or trying to fix a flood without the proper training or tools can be stressful. Leave it to the professionals at 911 Restoration of Chicago; we'll provide residential or commercial restoration in Chicago and neighboring areas.
The Fastest Emergency Restoration in Chicago
When you experience a flooded basement or fire disaster, time is of the essence. We dispatch our disaster restoration team to the site of the emergency, where they'll respond using the latest industry remediation techniques. As a water extraction company, our urgency is what sets us apart from other water removal companies.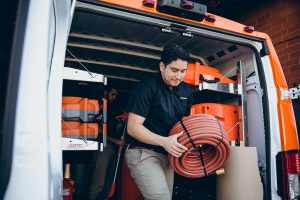 Water damage is common in Chicago and surrounding areas. We adapt to different emergency disaster situations that require expert knowledge of how to tackle flooding, winter storm damage, mold removal, or mold decontamination in Chicago. You might have unique or common disaster scenario problems like a pipe burst or fire hose flood. Whatever you're dealing with, we are here to help with water damage restoration techniques to dry your property quickly and efficiently. 
Our versatility and commitment to transparency has given us a long-standing and trusted reputation as water damage experts. We provide water damage restoration and a range of other services: flooding cleanup, smoke removal, mold removal at your Chicago property, and more. We are passionate about our work and grateful to help our customers with any emergency disaster restoration needs. 
We're committed to providing affordable and prompt water damage restoration services in Chicago and the surrounding area. 911 Restoration of Chicago will be there in 45 minutes to help with any residential or commercial restoration needs.  Call us at 773-231-7275.

A Fresh Start After Disaster
It is not easy to start over, especially after experiencing a disaster. We are committed to salvaging or rebuilding your property with full transparency and assistance.
At 911 Restoration of Chicago, we believe in the Fresh Start philosophy to lift spirits and rebuild what has been lost or destroyed during a disaster.
Our team of disaster restoration workers provide full transparency and help rebuild your property. We assist with flood cleanup, mold removal, smoke removal, ceiling leaks, mold inspection in Chicago, and other areas that need immediate attention. 
You deserve a fresh start and a chance to see your space transformed into a refuge once again after a flooded basement or fire. 
When you've experienced a disaster, 911 Restoration of Chicago is here to help with expert advice and speedy emergency disaster restoration services. For residential and commercial disaster restoration, call 911 Restoration of Chicago — we are open 24 hours. Call us at 773-231-7275.

Serving the communities of Arlington Heights, Aurora, Skokie, Glenview, Berkeley, Elmwood Park, Highland Park, Mount Prospect, Chicago, Hoffman Estates, Wilmette, Naperville, Winnetka, Niles, Northbrook, Des Plaines, Oak Park, Evanston, Park Ridge and surrounding areas.