Sewage Backup Cleanup Oak Park
Sewage backup cleanup is  a job that has to happen fast and should not be left to amateurs. The bacteria in black water is deadly, with is why 911 Restoration Chicago and our sewage backup cleanup Oak park crew wears full hazmat gear when performing water removal. We utilize the latest drying technology and the best remediation techniques to handle all of the following:
Plumbing leaks
Toilet overflow
Pipe burst
Ruptured hose
Sewage backup takes many forms and we are ready for tall of them. Our sewage backup cleanup Oak Park team has over 35 years of experience and we respond within 45 minutes to quickly provide expert water extractions.
Oak Park is a city known for greatness. From churning out entertainers such as Kathy Griffin and Dan Castellaneta to world changing personalities in the likes of Ernest Hemingway and Ray Kroc, this place is known as a city that breeds very special people. We always put the customer first. You are just as special to us, so we make sure you get the help you need as soon as you need it. We are licensed, insured, and bonded in all disaster restoration services. Call us when you have a pipe burst or toilet overflow because we are available 24/7 for sewage backup cleanup services and will be happy to do it for an affordable price.
Who do I Call for Sewage Backup Cleanup?
If you need sewage backup cleanup call our sewage backup cleanup oak Park specialists. Due to the toxic nature of gray water and black water, it is always good to have a professional company handle the job. We go above and beyond the call of duty by also providing a free inspection to spot mold at the end of the drying and clean up process. In addition to water cleanup, we can aid you in water damage restoration, mold decontamination, and all other disaster restoration services. We provide it all at one affordable price.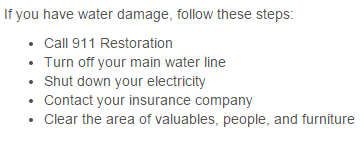 To lower your stress levels further, we will file your water damage insurance claim for you. We have over 35 years of experience working with all insurance companies, so we know what it takes to get you the coverage you deserve. We understand the industry jargon, and 911 Restoration Oak Park can even inform you of other ways to get your home back in order. In order to keep your home safe from sewage backup you can install a sewage back flow valve, stay on top of plumbing repair, and clean your gutters. These are all important steps, especially since the Insurance Information Institute has studies that show water damage is one of the most frequent reasons for insurance loss.
If you need sewage backup cleanup Oak Park services, call us for a fresh start in the city of Oak Park and we will respond within 45 minutes to give you the best water removal.