Sewage Backup Cleanup Skokie
Sewage backup cleanup is best left to the professionals because our sewage backup cleanup Skokie crew has the latest drying technology to make sure the water removal process is fast and easy. When it comes to a toilet overflow, pipe burst, or ruptured hose, 911 Restoration Chicago is the go to source for water cleanup. We are licensed insure, and bonded in all disaster restoration services so that our sewage backup cleanup Skokie specialists can help you with:
Plumbing Repair
Mold Removal
Disaster Restoration
Preventative Maintenance
A Free Inspection
We offer all of our restoration services at an affordable price because we always put the customer first. Sewage backup is a dangerous disaster that needs to be cleaned up immediately, so we respond within 45 minutes. In addition, we wear full hazmat gear to deal with the deadly substance. Returning water could contain severely unsanitary elements, yet another reason why a professional job is mandatory. We have over 35 years of experience in black water cleanup, so trust us to return your home to normal after a washer burst, plumbing leaks, or other water disasters.
Skokie was not always the Skokie we know and love today. Once upon a time, it was a marshland called Niles Center. A series of name and culture changes created today's Skokie, which is a Native American word that is derived from marsh or fire. While marsh is an obvious connection, fire could be associated with the area because the Native Americans lit brush aflame to flush out game. Wherever the name came from, it now serves as a homey feel to the village. Unfortunately, your home could revert to a marsh wasteland after a single toilet overflow. If enough category 3 water penetrates your walls, carpets, or the rest of your home, it could become uninhabitable and you will have to call us for sewage backup cleanup services because we are available 24/7.
Who do I Call for Sewage Backup Cleanup Services?
Call us for sewage backup cleanup Skokie services at an affordable price. We know how jarring a toilet overflow, pipe burst, and ruptured hose can be, so we respond fast, make sure all water is out of your home, and sanitize the area. Once we are finished with water cleanup, we move onto plumbing repair and water damage restoration. At this point, we replace carpets, drywall, and appliances affected by the disaster. We have over 35 years of experience in the industry and say that, when you need disaster restoration services, you should: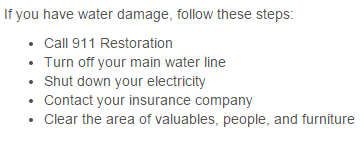 We have seen the worst cases of sewage backup. Some of our jobs consisted of black water entering the home through the bathtub, sinks, and even broken pipes layering the area with diseases. We want to help you prevent such an occurrence from ever happening. Our free inspection is designed to help you avoid these problems. We show you how to install a sewage back flow valve, perform plumbing repair, and replace old appliances. We can even help you make sure your insurance company covers the sewage backup job, so call our sewage backup cleanup Skokie professionals today.
Will my Insurance Cover Sewage Backup Cleanup?
Your insurance will cover sewage backup cleanup if you performed all necessary preventative maintenance, which our sewage backup cleanup Skokie technicians will be happy to show you during our free inspection. We are working with all insurance companies in order to limit the stress on your shoulders. We will file your claim for you and help you get the most coverage possible. It is important to have a professional company backing you when dealing with the insurance company because, according to the Insurance Information Institute, water damage is one of the most frequent reasons for insurance loss. Call the best sewage backup cleanup Skokie company for help protecting your property and finances from the dangers of plumbing failure.
What is the Best Sewage Backup Cleanup Company in Skokie?
The best sewage backup cleanup company in Skokie is 911 Restoration because we use the latest drying technology, we value professionalism, and we respond within 45 minutes. We are better than any plumber or plumbing company for the job because we can also help you with mold remediation, water cleanup, and all other disaster restoration services. 911 Restoration Skokie is even capable of complete reconstruction if necessary.  Call us for a free inspection, affordable price, and same day service that is all geared to always put the customer first and provide them with a fresh start in the city of Skokie.