Water Damage Restoration in Arlington Heights
Property owners need to be aware of all the cracks and leaks in their plumbing system or else they may experience a pipe burst that could lead to a flooded basement.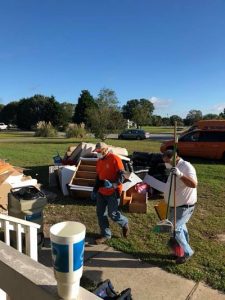 Fortunately, if you are impacted by a home flood, the expertise of the technicians at 911 Restoration of Chicago are only a phone call away. All of their cumulative decades of fieldwork allows them to take on any water damage challenge that presents itself.
There's not much the repair techs haven't seen on the job, and this is why they can confidently solve any water disaster they encounter with a meticulous precision that will not only repair the flood damage but prevent future problems.
When it comes to remediating burst pipes, flooded basements, and any other water disaster, speed and efficiency is an absolute must for every stage of the restoration process.
Moisture that lingers for too long can increase the damages that it causes, as well as to dramatically heighten the likelihood of mold spores taking hold. To prevent these issues, the repair agents stay available 24/7/365 and guarantee to arrive within 45 minutes of receiving your call.
Due to all of our experience in the restoration field, customers can feel confident that when they hire our technicians, they are getting the most qualified water restoration in the industry. We prove our qualifications by earning our IICRC certification and being backed by the Institute of Inspection, Cleaning, and Restoration. The entire organization is also licensed, bonded, and insured for your protection.
Don't let your property become a water damage loss and call 911 Restoration of Chicago when you experience a water disaster like a flooded basement in Arlington today!
Giving Pipe Bursts Immediate Attention in Arlington Heights
Quick action is only possible when the experts at 911 Restoration of Chicago are called to a job because our mobility allows us to be on the scene faster than any other water damage company.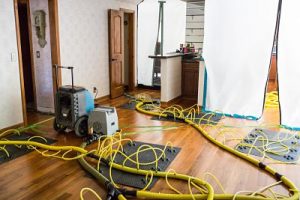 Timely flood cleanup services are especially important when dealing with a pipe bust in Arlington Heights. The velocity at which the water sprays out of a broken pipe can cause a flooded basement within minutes.
Not many homeowners are aware of the amount of water that can spray from a pipe burst, which is why the professionals are standing by around the clock to provide you with immediate flood cleanup service.
The technicians understand that it can be overwhelming to be dealing with floodwater in your home or business suddenly. 
To give you peace of mind about the situation and the reassurance you need, we offer customer service around the clock. So, give us a call as soon as you need flood damage cleanup.
Make Water Damage Prevention A Priority
The repair team is dedicated to customer service and prove that by giving sound advice to property owners on how to prevent water disasters from occurring in their homes and businesses.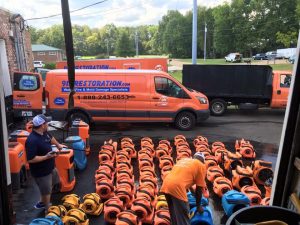 Our priority is to help people, even if that help is to give people the advice they need to prevent their pipes from bursting or their water heater from failing and sending gray water all over their home.
Another way that property owners can prevent the worst disasters from happening in their home or business is by having the roof and gutters cleaned of debris every year before the snow hits.
This helps to keep ice dams from forming in the gutter and downspout system which can devastate a roof with repetitive water damage.
Beyond cleaning maintenance, another method for preventing the worst that winter can do to a home or business is to keep the room temperature above freezing.
This makes pipe bursts extremely rare because typically a pipe burst happens when the pipe freezes and water expands the metal creating a rupture point. Then when more water enters the system, it expands the burst and disperses uncontrolled water everywhere.
Above all else, the repair techs care the most about your wellbeing in these situations, so they make sure to stay accessible to take your calls at all times. The experts want to assist you with every step of the renovations process, from prevention to restoration to insurance.
Call 911 Restoration of Chicago to receive help from water removal technicians who care and understand your needs today!
Servicing the cities of Arlington Heights, Aurora, Bellwood, Berkeley, Brookfield, Buffalo Grove, Chicago, Clarendon Hills, Darien, Deerfield, Des Plains, Evanston, Glen Ellyn, Glencoe, Glenview, Golf, Highland Park, Highwood, Hoffman Estates, Inverness, Itasca, Kenilworth, LaGrange Park, Lake Zurich, Lincolnshire, Lincolnwood, Long Grove, Medinah, Morton Grove, Mount Prospect, Mundelein, Naperville, Niles, Northbrook, Oak Park, Park Ridge, River Forest, Skokie, Vernon Hills, Wayne, Western Springs, Westmont, Wilmette, Winnetka, Wood Dale, Woodridge, and the surrounding areas.