Water Damage Restoration in Evanston
A basement flooding emergency or rainwater leak can strike without warning and leave your property in a state of disrepair that needs to be restored immediately to prevent water damage, structural problems, and mold from forming.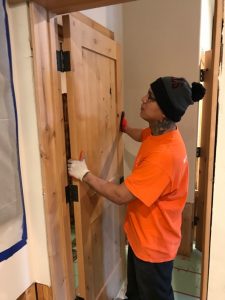 To provide you with immediate flood cleanup in Evanston, 911 Restoration of Chicago stays available 24/7/365 to assist you day or night.
Our technicians understand how crucial it is to administer water removal quickly to stem the flow of your emergency water damage situation, which is why they guarantee to arrive within 45 minutes of receiving your call.
Repair techs will get to work right away extracting water and using fans to dry out water damage. Through same-day, water restoration services, technicians will keep the damage at bay and the water restoration rates to a minimum.
Property owners receive free inspections, so you never have to be concerned with taking a financial risk if you are unsure whether or not you need professional water damage restoration.
When you hire our water damage company, you can feel confident in the abilities of the technicians we employ. Our organization is IICRC certified and licensed, bonded, and insured for your protection.
So, call 911 Restoration of Chicago when you need water damage restoration in Evanston, and you will receive the help of a team that cares and understands your needs.
Overcoming The Effects Of A Rain Water Leaks And A Flooded Basement
Evanston is one of the early adopters of climate change proposals and joined the United States Conference of Mayors, which is a consortium of mayors from around the country committed to activist activities on climate change.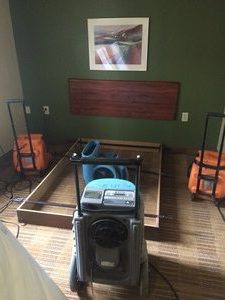 The leadership in Evanston proves that they understand how climate change and its effects impact people and communities big and small, including their own, which happens to be located right next to Lake Michigan.
With properties in the community being highly susceptible to flooding and water damage during heavy rain and severe storms, it is crucial to have a water damage restoration company nearby that is open around the clock.
Ceiling leaks and flooded basements in Evanston are some of the most common forms of water damage that property owners in the community experience. These disasters are usually caused by heavy storms, area floods, and pipe bursts, all issues that the repair techs are experts at remediating.
A flooded basement can seriously damage the structural integrity of your property and can lead to future mold growth when emergency water removal and drying services are not administered.
We will work diligently to dry out your basement after a flood to prevent mold and mildew by using fans to dry out water damage and administer carpet drying services.
If you have experienced a flooded basement in your property or if a recent storm has caused water to leak into your home or business, call 911 Restoration of Chicago right away to receive immediate flood damage cleanup.
Property Owners Can Count On Us For Affordable Water Restoration Rates
911 Restoration of Chicago doesn't feel that water damage restoration has to be expensive to be effective. We pride ourselves on consistently providing affordable prices on all our services.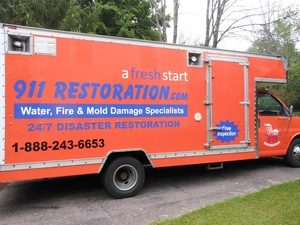 By choosing to work with a reputable and experienced restoration company like 911 Restoration of Chicago, you can trust that the most capable repair workers are on the job.
We offer the most competitive prices for water damage repair in Evanston, and by working with all insurance companies, we hope to prove to our customers that we are always trying to make it easy for the community to work with us.
Not only can the technicians handle all your water damage restoration needs, but staff members will assist you with your insurance claim. We provide free insurance consultations to help make the insurance process go as smoothly as possible.
Staff members will go over your insurance policy with you to determine what type of coverage you are entitled to receive. If you have never had to submit an insurance claim before then, you can count on a team member to file it for you.
There is no reason to go through this process alone. Call 911 Restoration of Chicago the moment you need cleaning services after a flood or leak has impacted your property and technicians will give you the Fresh Start you deserve.
Servicing the cities of Arlington Heights, Aurora, Bellwood, Berkeley, Brookfield, Buffalo Grove, Chicago, Clarendon Hills, Darien, Deerfield, Des Plains, Evanston, Glen Ellyn, Glencoe, Glenview, Golf, Highland Park, Highwood, Hoffman Estates, Inverness, Itasca, Kenilworth, LaGrange Park, Lake Zurich, Lincolnshire, Lincolnwood, Long Grove, Medinah, Morton Grove, Mount Prospect, Mundelein, Naperville, Niles, Northbrook, Oak Park, Park Ridge, River Forest, Skokie, Vernon Hills, Wayne, Western Springs, Westmont, Wilmette, Winnetka, Wood Dale, Woodridge, and the surrounding areas.