Water Damage and Mold Removal in Elmwood Park
Are you dealing with water damage caused by flooding, sewage backup, or a pipe burst in Elmwood Park? You don't have to deal with flood cleanup on your own. In fact, you can get same-day water damage restoration services by contacting the pros at 911 Restoration of Chicago. Our licensed, bonded, and insured flood cleanup techs can:
Extract Water from Your Home or Business

Take Care of Your Flooded Basement or Crawlspace

Deal with Ceiling Leaks and Carpet Water Damage
The techs at 911 Restoration of Chicago are also IICRC certified to handle mold remediation. Let us perform a mold inspection and focus fully on your mold decontamination needs in Elmwood Park.
How Fast Can You Begin Water Damage Restoration in Elmwood Park?
It's important that you begin flood cleanup in Elmwood Park quickly. The damage done by water will only increase if it is allowed to remain in your property. Fortunately, 911 Restoration of Chicago can reach your property within 45 minutes of an emergency call to deal with flooding, sewage spills, and pipe bursts.
Water damage restoration techs can complete a water damage and mold inspection in Elmwood Park. This inspection can help techs design a personalized plan for you that could involve:
Water Removal, Dehumidification, and Drying Services

Repairs for Structural Damage, Leaking Pipes, and Pipe Bursts

Mold Removal and Mold Decontamination
We have the equipment and training to take care of mold remediation in Elmwood Park quickly and correctly. You can protect your physical well-being and your property with flood cleanup and mold removal in Elmwood Park.
What Happens in Mold Remediation in Elmwood Park?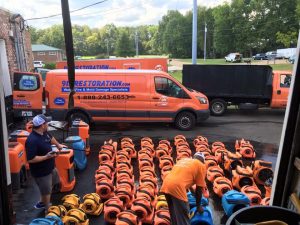 Water damage caused by pipe bursts, heavy rains, or sewage backups can invite mold to thrive in your property. For this reason, property restoration techs often complete a mold inspection to check for signs of fungal growth.
After completing a mold inspection, crews can start focusing on mold remediation in Elmwood Park. Mold removal in Elmwood Park can involve:
Isolating Areas Impacted by Mold

Cleaning and Disinfected Infested Items

Using Air Filters to Remove Mold Spores

Handling Odor Removal with Mold Decontamination
Your property can be returned to better-than-new condition with mold removal and water damage restoration in Elmwood Park. Get the help you need to recover from commercial or residential water damage and mold infestation by contacting 911 Restoration of Chicago today.
We can develop a specialized flood cleanup and mold decontamination plan for you. You can get the dedicated support you need to move forward with a Fresh Start by calling us for water damage restoration and mold remediation services.
Servicing the cities of Arlington Heights, Glencoe, Lincolnshire, River Forest, Aurora, Glen Ellyn, Lincolnwood, Lake Forest, Skokie, Bellwood, Glenview, Long Grove, Vernon Hills, Berkeley, Golf, Medinah, Wayne, Elmwood Park, Brookfield, Highland Park, Morton Grove, Western Springs, Buffalo Grove, Highwood, Mount Prospect, Westmont, Chicago, Hoffman Estates, Mundelein, Wilmette, Clarendon Hills, Inverness, Naperville, Winnetka, Darien, Itasca, Niles, Wood Dale, Deerfield, Kenilworth, Northbrook, Woodridge, Des Plaines, LaGrange Park, Oak Park, Evanston, Lake Zurich, Park Ridge… and surrounding areas.