Mold Remediation Chicago: Where Does Your Mold Grow?
Every type of mold grows in different environments and feed off various materials. Whether you find pink spots on your wall or fuzz on your food, the location is a big give away to how toxic the mold in your home is. No matter what kind of fungus infestation you have, mold decontamination should always be undertaken by mold remediation Chicago professionals with the best remediation techniques.
Pink Polkadots are not Always Festive
Aureobasidium grows on wood, paint, and wall paper, usually in damp bathrooms. If your restroom recently underwent an unforeseen makeover incorporating pink spots, call the mold remediation Chicago crew for same day service, because this fungus can spread allergens and take over the whole powder room in a matter of weeks, or days if the humidity is high enough. Any time water collects on an organic surface, you will probably find mold.
Cozy Cladosporium
Cladosporium prefers comfy areas inside homes, and is especially active during the winter.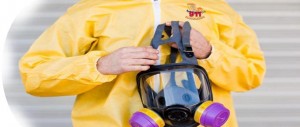 Other fungus infestations favor warm environments. Cladosporium rests just fine throughout the bitter cold seasons. You can find it curled up in your carpets and fabrics. The longer you shelter this type of mold, the more likely you are to develop severe respiratory problems. Call mold remediation Chicago specialists to send this fungus back out in the cold and away from the warmth of your blankets.
The Last Threat of Water Damage
Penicillium shows up after water damage restoration is complete. A professional mold remediation Chicago company will prevent the chance of mold growth once they are finished with water removal; some may even provide a free inspection. Like many forms of this fungus, Penicillium prefers a heavy amount of sustained moisture. Any area of your home that floods have damaged or where leaks persist could see the presence of this mold. Carpeting and mattresses are its favorite spots and you can identify it by the bluish-green color. Due to the excessive amount of spores it produces, Penicillium can infest one room after another, moving as needed to follow the moisture. If you have allergies, you could find yourself with a chronic sinus infection and inflamed lungs, so be sure to have mold remediation Chicago professionals perform any mold decontamination and removal that your home may need.